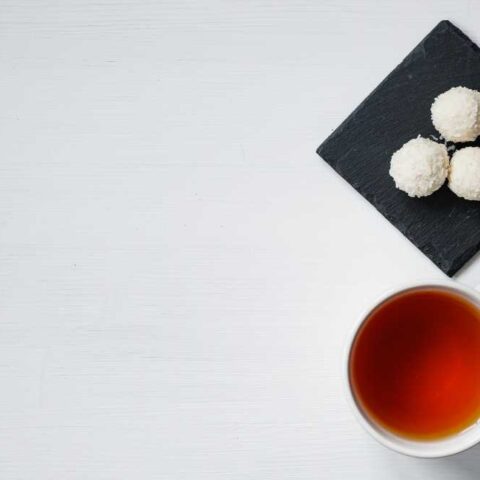 Keto Coconut Sweet Spheres
Coconut is an ingredient that, thanks to its many derivatives, is perfect for any use in the kitchen.In this recipe we will mainly use coconut-based ingredients to prepare a totally keto and energetic recipe, that'll be an excellent alternative for breakfast or during snacks. Not to mention it is so fast to prepare you will just need 15 minutes to prepare it and another 15 minutes to rest before serving.
Here is how to prepare it.
Ingredients
200 gr. Coconut Flour
2 tbsp Coconut Butter
2 tbsp Stevia Extract
3 tsp Almond Flour
1 Egg Yolk
2 tbsp Coconut Milk
2 tbsp Colored Sugar Flakes to garnish and decorate
Instructions
To prepare this recipe, these are the steps to follow:
Break the egg and separate the egg white from the yolk. Discard the egg white.
Pour the egg yolk in a medium sized bowl, then add the sugar.
Stir well and place a small pot over low heat.
Pour the coconut oil in it and allow to melt completely, just avoid to raise the temperature too much.
Add the coconut and the almond flour to the bowl with the egg yolk and the stevia extract and mix until the mix is well blended.
At this point, gently pour the melted coconut oil into the bowl while stirring. Don't pour it all at once, or it will not be absorbed. After you get a nice smooth dough, shape it in small spheres using a spoon or your hands.
Place the sugar flakes into a dish, and toss the small coconut spheres in it. Completely cover the spheres in the sugar flakes and place the dish in the fridge.
Let it rest in the fridge for at least 15 minutes, so our small spheres will set.
Serve cold
Nutrition Information:
Serving Size:

75 gr
Amount Per Serving:
Calories:

107
Total Fat:

7.32g
Saturated Fat:

4.5g
Trans Fat:

0g
Unsaturated Fat:

1.7g
Cholesterol:

54mg
Sodium:

87mg
Carbohydrates:

8.91g
Fiber:

0.8g
Sugar:

7.88g
Protein:

1.63g