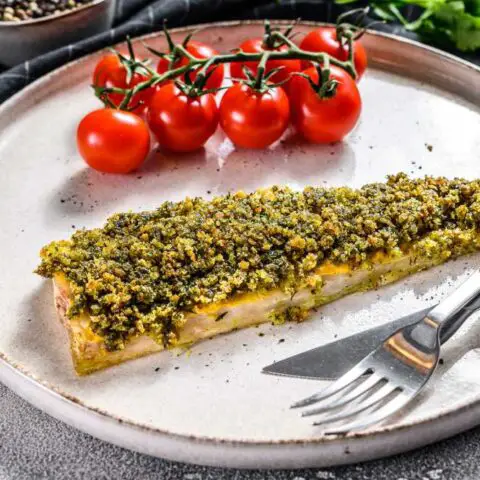 Keto Baked Cod Fillet in Pistachio Crust with Sautéed Spinach and Sage Flavored Butter
This a gourmet recipe, one of the recipes that will surprise your guests or make a nice romantic dinner.
It features cod fish, which has no carbs, and a pistachio crust, seasoned with a drip of sage-flavored butter and a side of sauteed spinach.
With its high fat content and the low carbs, this dish will be perfect for the keto diet without saying no to taste.
Enjoy it.
Ingredients
The ingredients for this recipe are:
 
500 gr Cod Fish Fillets
50 gr Spinach
4 tbsp Butter
1 tbsp Olive Oil
300 gr Ground Pistachio
Instructions
These are the steps to make to prepare this recipe:
The first thing we need to do to is the sage flavored butter, so we will start by placing the butter in a small pot and we will melt it over low heat.
Once the butter is melted, we can add the sage leaves. Leave it over low heat until the leaf starts to fry, then turn the flame off and allow it to rest at room temperature.
Pour the olive oil in a small pan, place it over high heat and toss the spinach in it. Add a pinch of salt and ½ tsp of chili flakes to give a note of spicy to it. Gently cook the spinach for about 5 minutes.
In the meantime, brush the cod fillets with the butter, pour the ground pistachio in a small tray and place the fish in it by just dipping the meat side inside the pistachio. Leave the skin intact.
Preheat the oven at 180°C and cook the cod fish fillet for 12 minutes, laying it on the skin side. Add some salt and pepper.
Serve the fillets by placing them on a spinach base and pour 1 tbsp of the sage-flavored butter on top of it.
Nutrition Information:
Serving Size:

230 gr
Amount Per Serving:
Calories:

642
Total Fat:

49.5g
Saturated Fat:

12g
Trans Fat:

0.4g
Unsaturated Fat:

23.4g
Cholesterol:

90mg
Sodium:

477mg
Carbohydrates:

21g
Fiber:

8g
Sugar:

5.1g
Protein:

34.77g