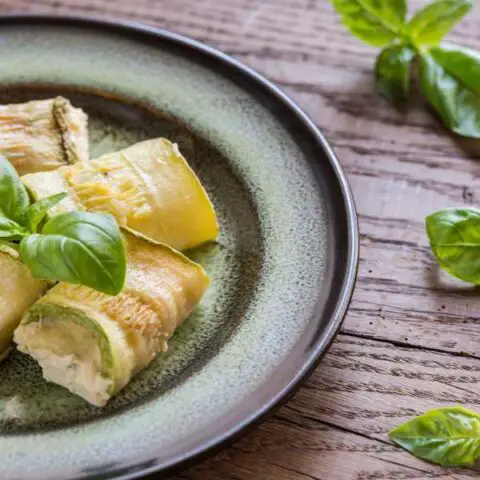 Keto Baked Stuffed Zucchini
Zucchini (also known as courgettes) are great light vegetables that are perfect to eat during summer as they are very light and fresh tasting.
In this recipe we will remove grains, but we will add almond flour to get a great deep taste note and a nice balance in consistency, while enriching it with nutrients and healthy fats.
Enjoy it!
Ingredients
The Ingredients for this recipe are:
 
600 gr. Zucchini
1 Whole Egg
3 tbsp Almon Flour
300 gr. Ricotta Cheese
3 tbsp Grated Cheese
2 tbsp Fresh Chives
3 tbsp Olive Oil
Instructions
To prepare this recipe, these are the steps to follow:
1. Wash the zucchini in cold water. Then cut each one in half.
2. Using a spoon, carve out the middle of each half.
3. Place the empty halves in a bowl filled with water and the scooped zucchini in another bowl.
Leave them in the water for about 5 minutes.
4. Once 5 minutes have passed, preheat the oven at 180°C, place the empty zucchini on the
oven dish covered with baking paper and season them with olive oil, a pinch of salt and
pepper.
5. Finely chop the zucchini we got from carving the halves, then add the fresh chives, the
ricotta cheese, the almond flour and the grated cheese.
6. Add a pinch of salt and pepper too.7. Stir the mixture well, then add the egg.
8. Once you have mixed everything well, fill each half zucchini using a knife with this
mixture.
9. Cook the preheated oven for about 25 minutes, making sure to give it a look every 15
minutes to avoid them from burning.
10. Once they are cooked, serve this zucchini hot
Nutrition Information:
Serving Size:

270 gr
Amount Per Serving:
Calories:

330
Total Fat:

25g
Saturated Fat:

9.9g
Trans Fat:

0g
Unsaturated Fat:

1.9g
Cholesterol:

199mg
Sodium:

287mg
Carbohydrates:

12.7g
Fiber:

2g
Sugar:

1.2g
Protein:

17g