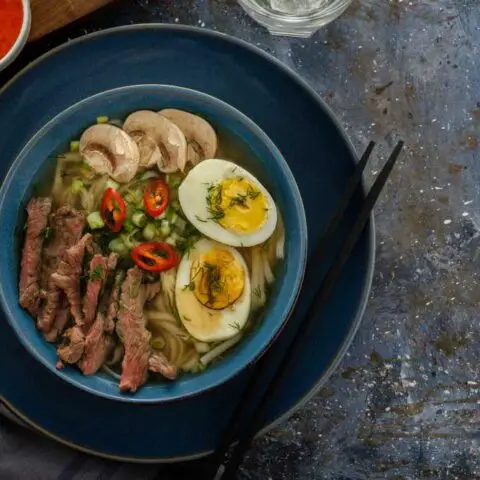 Keto Asian Style Bowl
This keto recipe is mainly made to be a complete meal. It takes a bit of time to prepare, even if the recipe itself is simple and the ingredients are just a few, but the result will definitely be worth the time spent preparing it.
This bowl is inspired by Asian lifestyle, where people prefer a light meal, made with simple ingredients.
Ingredients
350 gr Peas
6 Eggs
50 gr pea sprouts
4 tbsp Dried Mushrooms
1 Red Pepper
100 gr Beef Fillet
2 Avocados
6 tbsp Olive Oil
1 tbsp Paprika
60 gr. Fresh Chives
Instructions
These are the steps to prepare this recipe:
Fill a medium sized pot with water and bring to a boil over high heat.
Add 3 tsp of salt to it, then pour the peas into it and cook for 7 minutes.
In the meantime, bring to a boil another small pot and hard boil the eggs for 10 minutes.
Dice the red pepper and pour all of the olive oil in a non-stick skillet, put over high heat and roast stir fry the red pepper in it.
Add the pea
Dice the beef fillet and add it to the pan, roast it for a few minutes to ensure it is well cooked, then pour the dried mushrooms with some boiling water in it to season it.
Once the peas are cooked, strain them and pour them into the pan.
The eggs at this point should be well cooked. Allow them to rest in cold water to cool them down, peel them and cut them in half, then in half again.
Chop the fresh chives, then add the paprika to the skillet.
Peel and cut the avocado in half, then slice it and keep the slices for later.
Serve in medium sized bowls, add a few slices of avocado and the eggs to the bowl, then decorate using the chopped fresh chives.
You can also season using your favorite sauce, but I usually recommend to season the bowl with a drizzle of lemon juice, that gives a fresh note.
Nutrition Information:
Serving Size:

380 gr
Amount Per Serving:
Calories:

751
Total Fat:

59.3g
Saturated Fat:

10.7g
Trans Fat:

0.05g
Unsaturated Fat:

34.9g
Cholesterol:

900mg
Sodium:

870mg
Carbohydrates:

24.4g
Fiber:

11.8g
Sugar:

7.28g
Protein:

33.8g