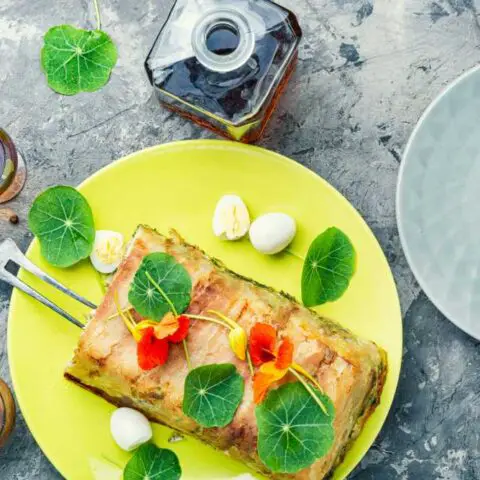 Keto Baked Egg Terrine with Fresh Chives Sauce
Keto recipes are often fresh and light recipes. This time we will prepare something different but we will still use a staple in this diet: Eggs.
In this new recipe we will discover how to prepare an amazing and versatile fresh chives-based sauce that can even complement other recipes.
Here is how to prepare it:
Ingredients
The ingredients needed for this recipe are:
 
6 Eggs
500 gr. Heavy Cream
1 tbsp Butter
100 gr. Fresh Chives
1 Garlic Clove
2 tsp Salt
2 tsp Oregano
4 Sage Leaves
2 tbsp Parmesan Cheese
Instructions
These are the step to make to prepare this recipe:
The first thing we need to, is to melt the butter in a non-stick pan, over low heat.
Add the sage and the chopped fresh chives to it and gently stir fry the herbs for about 5 minutes. This will transfer all of the scents of the herbs in the butter.
Pour the heavy cream in the pan and bring to a simmer.
Once the heavy cream is hot enough, add half of the parmesan cheese and stir until it eventually melts and blends in the sauce.
Now preheat the oven at 160°C, and break the eggs in two terrines.
Cover with the hot sauce and sprinkle the top with the remaining parmesan cheese.
Cook in the oven for about 20 minutes.
If the eggs are too small, add another egg or remove part of the sauce to avoid it being too loose.
Garnish with chopped fresh chives and serve hot.
You can enrich this recipe by adding diced vegetables of your choice, tomatoes are great with this recipe.
Nutrition Information:
Serving Size:

531 gr
Amount Per Serving:
Calories:

1321
Total Fat:

127g
Saturated Fat:

68g
Trans Fat:

0g
Unsaturated Fat:

41g
Cholesterol:

2200mg
Sodium:

2300mg
Carbohydrates:

14.9g
Fiber:

1.8g
Sugar:

10.8g
Protein:

35g