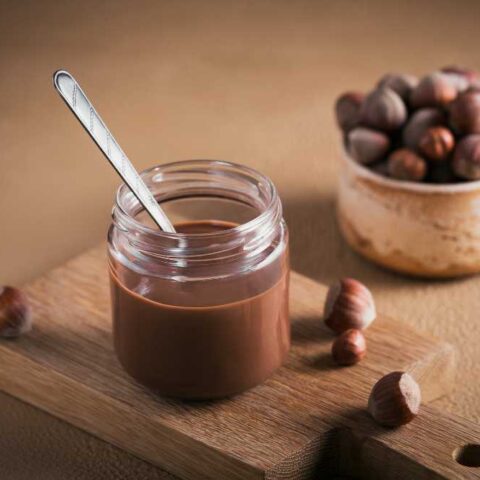 Keto Hazelnut Spreadable Cream
Nutella is one of the first things we think about if we talk about hazelnut spreadable cocoa creams.
But there are plenty of other equally good tasting alternatives on the market, and if you really want to get the best choice, well, we have a great recipe for you.
This simple recipe is much healthier than commercial ones, it has a very low sugar content and it is a Keto recipe. You will be surprised on how tasty this spreadable cream is!
Here is the recipe:
Ingredients
The ingredients for this recipe are:
 
½ Avocado
½ tsp Vanilla Powder
2 Tbsp Erythritol
30 gr. Cocoa Powder
120 gr. 80% Dark Chocolate
250 gr. Hazelnuts
1 tbsp Butter
Instructions
To prepare this recipe, these are the steps to follow:
Let's start by preheating the oven at 180°C
Place the hazelnuts in an oven dish covered with baking paper.
Cook the hazelnuts in the oven for about 10 minutes, if they become golden brown, they are ready.
Now let the hazelnuts cool down and blend them to get a very fine powder or a wet mixture.
Add the Erythritol and blend again.
Melt and pour the melted butter in the mixture while it is blending, then add the cocoa powder and the vanilla.
Melt the dark chocolate in a small pot, then pour it into the blender.
Nutrition Information:
Serving Size:

70 gr
Amount Per Serving:
Calories:

321
Total Fat:

27.33g
Saturated Fat:

5.4g
Trans Fat:

0g
Unsaturated Fat:

17g
Cholesterol:

0mg
Sodium:

37mg
Carbohydrates:

15.91g
Fiber:

5.8g
Sugar:

6.48g
Protein:

6.67g