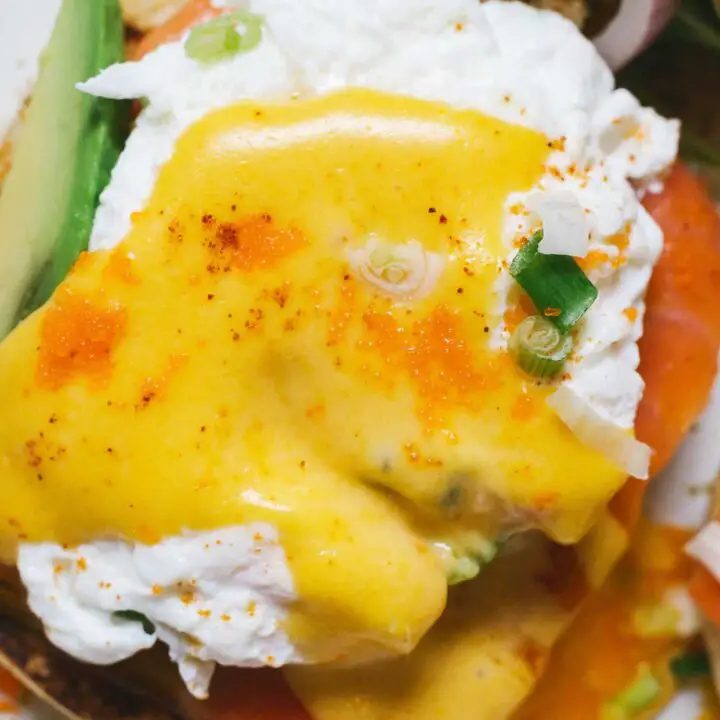 Keto Salmon Egg Muffin Sandwich
Salmon sandwich is a must in international cuisine, and today we are going to prepare a new and delicious keto version of it by using the egg muffin as a substitute for bread.
This recipe is easy enough to be prepared in less than 1 hour.
This sandwich is also truly versatile, so you can eat it for breakfast or as a protein-packed lunch meal.
Ingredients
The Ingredients needed to prepare 2 Sandwiches are:
 
1 ½ Avocado
2 tbsp Spreadable Cheese
15 gr. Fresh Chives
4 Eggs
Salt and Pepper
1 Tomato
8 Smoked Salmon Slices
3 tbsp Olive Oil
Instructions
These are the steps to prepare this recipe:
Start by heating up three tablespoon of olive oil in small skillet.
Break the egg in a medium sized bowl
Beat the using a fork, then add 1 tsp of salt.
Preheat the oven at 150°C or 300°F
Pour the egg inside silicon cups (Large cupcake molds are perfect) and cook in the oven for 35 minutes.
Once they are ready, allow them to cool down before taking them off the mold.
Here's how to cut the avocado:
Use a knife to cut the avocado in half longwise. You will have to cut around the giant seed that is in the center of the fruit.
Twist the two ends, and you should get one end with the seed and one without it. Take the knife and hit the avocado seed using its back. Twist the whole knife and the seed should now come off.
Using a spoon, remove the skin of the avocado, then proceed to slice it thinly.
It is now time to assembly the recipe:
Cut horizontally in half the egg muffins.
Use a knife to spread the spreadable cheese on each half of the muffin
Cut the tomato in thin slices and add them on the spreadable cheese.
Now place the salmon slices on top and cover with a few slices of avocado.
At this point, we can add the eggs on top. Proceed to add a bit of salt and pepper if needed.
Finely chop the fresh chives and sprinkle them on our sandwich.
Close the sandwich using the other half of the muffin and keep it standing sticking a toothpick on it.
Nutrition Information:
Serving Size:

500 gr
Amount Per Serving:
Calories:

869
Total Fat:

70.85g
Saturated Fat:

15g
Trans Fat:

0g
Unsaturated Fat:

42g
Cholesterol:

1300mg
Sodium:

590mg
Carbohydrates:

21.17g
Fiber:

11g
Sugar:

6.7g
Protein:

41.08g