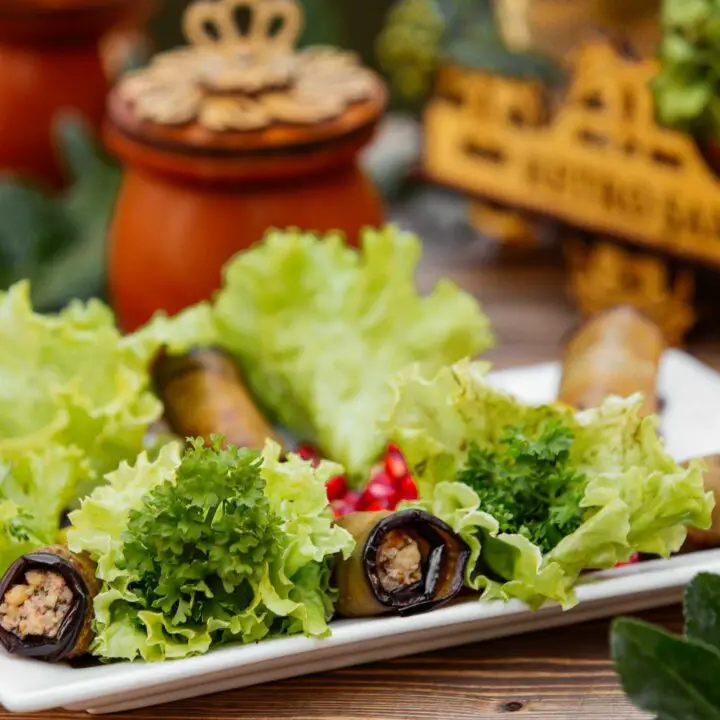 Keto Beef and Eggplant Wraps
Total Time:
2 hours
25 minutes
This easy recipe will help you to get lean without having you to sacrifice flavor.
These wraps are developed to provide you with a high protein intake while keeping low carbs.
The beef wraps are easy and fast to prepare once the meat is cooked, so, you can prepare the meat the day before serving.
Ingredients
The ingredients for 2 servings are:
 
160 gr. Eggplant Slices
Beef Fillet
4 tbsp Yogurt
4 tbsp Heavy Cream
1 tbsp Chopped Parsley
Salt and Pepper
1 tsp Turmeric
½ tsp Chili Flakes
1 Sweet Red Bell Pepper (medium size)
4 Lettuce Leaves
1 tsp Paprika
3 tbsp Olive Oil
1 tsp Lemon Juice
Instructions
To prepare this recipe, these are the steps to follow:
Start by adding one tablespoon of olive oil into a skillet. Put over high heat and let it become warm.
Once the olive oil its hot enough, you can place the whole beef fillet in the skillet.
Let the beef roast on each side for 1 minute.
Sprinkle ½ teaspoon of salt on the beef, then proceed to place it on an oven dish.
Cut the eggplant into slices, brush some olive oil on them and season with salt and pepper, then place them on an oven dish too.
Cook both the beef filet and the eggplant slices in the preheated oven at 180°C or 356°F for about 12 minutes.
Allow it to cool down before moving on.
Now we can proceed to prepare the rolls, starting with the sauce:
Mix together the heavy cream and the yogurt.
Add ½ tsp of salt in it and start to stir.
You can now add the powdered paprika and the lemon Juice.
Complete it by pouring the turmeric in the sauce we made.
At this point we only need to put together the ingredients:
Place the eggplant slices on a dish.
Spread the yogurt sauce in it.
Finely cut the beef filet into strips and toss them in the middle of the wrap.
Season with 1 drizzle of olive oil, ½ tsp of salt and a pinch of black pepper.
Add the Chili flakes and the lettuce leaves.
Thinly slice the sweet red bell peppers and add them on top. Now you can add the chopped parsley.
Roll up the wrap, and place it in the hot skillet.
Cook it for 2 minutes per side and serve hot.
You can serve this delicious keto wrap as a snack or as light lunch. This wrap is also toddler friendly.
Nutrition Information:
Serving Size:

214 gr
Amount Per Serving:
Calories:

535
Total Fat:

38.86g
Saturated Fat:

6.4g
Trans Fat:

0.2g
Unsaturated Fat:

11.6g
Cholesterol:

78mg
Sodium:

134mg
Carbohydrates:

15.12g
Fiber:

2.7g
Sugar:

4.7g
Protein:

34.61g